Hawaii is a hunter's paradise, with its stunning rainforests and abundant wildlife. Big game such as wild boar and mouflon sheep, to small game like pheasant and quail – all can be found here.
To hunt these species, you'll need a valid Hawaii hunting license, plus any additional tags or permits required by your quarry. Before heading out into the field though, always check local regulations first.
In this detailed guide, we will cover everything you need to know about hunting in Hawaii. We go over what type of animals can you hunt in Hawaii, where to hunt them, license information, season, and much more. So, let's get right to it.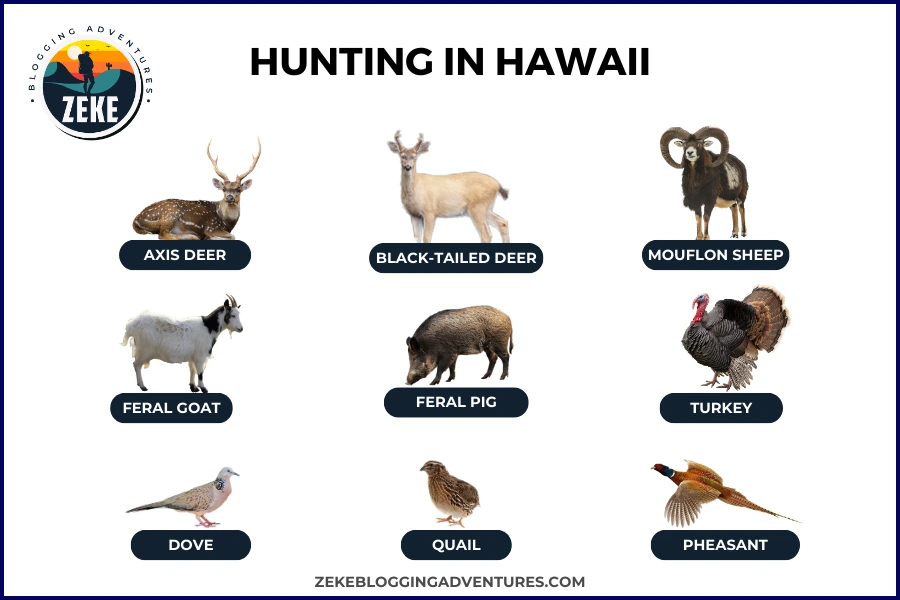 What Can You Hunt in Hawaii?
With its lush terrain and abundant wildlife, Hawaii offers some of the best hunting around. For those looking to take up bowhunting or rifle shooting, Axis Deer, Hawaiian Boar, Bearded Turkey, Sheep, Dove, and Pheasant are all viable options. Hunting these animals can be tricky though; they're masters of disguise in their densely populated habitats.
For those hoping to source food for a feast – or just something special for dinner – then an Axis deer's meat is both nutritious and delicious; as is that from the boar and dove.
Axis Deer
The axis deer stands out among its kin with a distinctly marked dark brow across the forehead. It was introduced to Hawaii in 1867 as a gift, yet it isn't native to this region.
Molokai and Lanai require hunters to get a permit via lottery during hunting season; however, on Maui, you can pursue these animals without any such restriction.
There are roughly 40,000-50,000 Axis Deers roaming the Hawaiian Islands. They inhabit a variety of habitats ranging from dry and grassy to lush and vegetated areas near water sources.
A highly social species, these deer travel in herds and can often be spotted grazing in fields or even in gardens near homes. As adapted residents of the islands, they've grown accustomed to living on Hawaii's terrain.
Hawaii Axis Deer Season
| | | |
| --- | --- | --- |
| Location | Dates | Note. |
| Lanai | Feb 15 – May 15 | Archery, General Rifle, Muzzleloader, Youth (Bag Limit 3 deer) |
| Maui | Oct 15 – Dec 15 | Archery, General Rifle (Bag Limit 2 deer) |
| Molokai | Closed | ——- |
| Oahu | Closed | ——- |
Lanai Axis Deer Season
| | |
| --- | --- |
| Season | Dates |
| Archery (First draw Hunt) | Feb 01 – Feb 12 |
| Archery (Second draw Hunt) | Feb 15 – Feb 26 |
| Youth Hunt | Mar 02 – Mar 05 |
| Muzzleloader | Mar 09 – Mar 12 |
| General Gun | Mar 16 – Mar 28, Apr 06 – Apr 10 |
| General Gun | Apr 13 – Apr 17, Apr 20 – Apr 24 |
| General Gun | Apr 27 – May 01, May 04 – May 08 |
| General Gun | May 11 – May 15, May 18 – May 22 |
Black-tailed Deer
The black-tail deer, with its iconic ebony tail, was introduced to Kauai in 1961 by the Oregon government. Today, it is the only place these creatures can be found and legally hunted – but only if a permit has been obtained via lottery selection.
Hawaiian hunters are thus limited to hunting on this single island. While similar to white-tailed deer found elsewhere in the US, they have adapted well since their introduction over half a century ago and now thrive exclusively on Kauai's lush foliage.
Black-tailed Deer Season in Kauai
| | | |
| --- | --- | --- |
| Season | Dates | Zone |
| Kauai Season | Sep 01 – Dec 31 | Unit A |
| Archery | Sep 01 – Dec 31 | Unit F, J, K |
| Muzzleloader | Sep 02 – Sep 03 | Unit A |
| Muzzleloader | Sep 04 – Sep 05 | Unit A, Unit B |
| Regular Rifle |  Sep 09 – Oct 29 | Unit A, Unit B |
Turkey
In the early 1960s, hundreds of wild Rio Grande turkeys were released across all six major Hawaiian Islands. These birds have adapted well to the dryer and higher elevation areas, predominantly on Big Island, Moloka'i, and Lāna'i. However unfortunately, they haven't been able to establish a population in Maui, Kaua'i, or O'ahu yet due to threats such as mongooses preying on their eggs.
But with no other predators around, these turkeys have flourished exceedingly since then; it is estimated that there are now up to 18,000 of them roaming around Hawai'i.
Turkey Season in Hawaii
| | |
| --- | --- |
| Season | Dates |
| Unit A | Mar 01 – Apr 15 |
| Unit G | Mar 01 – Apr 15 |
| Unit F | Mar 01 – Apr 15 |
| Unit E | Mar 01 – Mar 31 |
| Private Lands | Mar 01 – Apr 15 |
Feral Pig
Feral pigs abound in Hawaii, making them a favorite among hunters. They didn't originate from the islands, having been introduced by early settlers. With large populations spread over each main island, hunting is easy and rewarding.
For nighttime pursuits of these wild swine, scopes that are thermal or night vision equipped will give you more success than not using them.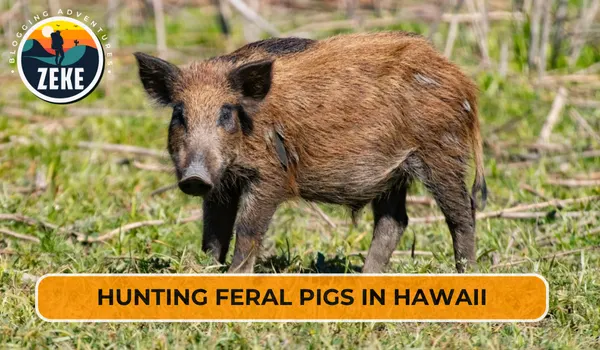 Feral Pig Season Hawaii
| | |
| --- | --- |
| Season | Dates |
| Hawaii Season | Jan 01 – Dec 31 |
| Kauai Season | Jan 01 – Dec 31 |
| Maui Season | Jan 01 – Dec 31 |
| Molokai Season 01 | Jan 01 – Dec 31 |
| Molokai Season 02 | Feb 01 – Oct 31 |
| Oahu Season 1 & 2 | Feb 01 – Oct 31 |
| Kauai Season 01 | Jan 01 – Dec 31 |
| Kauai Season 02 | Jul 01 – Aug 31 |
| Kauai Season 03 | Jul 01 – Aug 31 |
Mouflon Sheep
Hunting for sheep in Hawaii is an exciting experience, with two varieties to choose from: mouflon and feral. The former are similar to Bighorn sheep with their trademark curved horns; the latter have a fluffy coat and are smaller than their counterpart.
To hunt either variety on the Big Island requires no permit, but those looking for a challenge can try hunting feral sheep (which require permits) exclusively there. Mouflon can be hunted on both Big Island and Lanai – however, only Lanai demands you obtain a permit first.
Mouflon Sheep Season
| | |
| --- | --- |
| Season | Dates |
| Archery (Lanai) | Jun 28 – Jul 23 |
| Youth (Lanai) | Jul 27 – Jul 30 |
| Muzzleloader (Lanai) | Aug 03 – Aug 06 |
| General Rifle (Lanai) | Aug 10 – Oct 22 |
Feral Goat
Feral goats are an abundant species found throughout the Hawaiian Islands, and they provide great hunting opportunities in most areas. Though special permits aren't necessary, there is a limit of two goats per day; so if you come across a herd, be sure to plan ahead for multiple trips.
Lanai is the only major island where goat hunting isn't allowed – but everywhere else offers plenty of chances to take home your game. Whether it's during summer or winter, feral goats can always be hunted with no restrictions.
Feral Goat Season
| | |
| --- | --- |
| Species | Dates |
| Feral Goats | Open Season all year |
Pheasant
The ring-necked pheasant is a highly sought-after species among Hawaiian hunters. Easily recognizable by its emerald green head, adorned with crimson patches around the eyes and mottled brownish-orange wings, this bird also sports a white collar of feathers that distinguishes it from other avians.
Each hunter can take up to three of these birds for their hunting collection, as they are found in all major islands without requiring any special permits.
The green pheasant is another beautiful species, boasting an array of dazzling colors such as deep greens, blues, and turquoises across its head and body. It also has the added feature of a vivid red wattle that many other pheasants lack.
If you are looking to hunt this bird legally, it can be done on two islands: Maui and Lanai with each hunter only allowed three birds in total – including ring-necked or any other type of pheasant.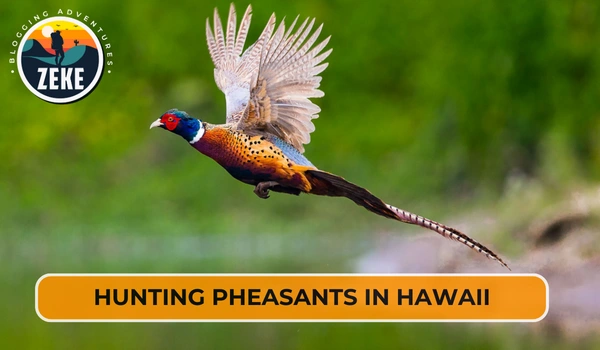 Pheasant Season
| | |
| --- | --- |
| Species | Dates |
| Pheasant | Nov 04 – Jan 28 |
Dove
The celebrated mourning dove is seen in every corner of North America, with its range extending to the Pacific islands. For those wishing to hunt this bird, they are only allowed a 10-gauge shotgun or smaller and can only capture up to ten at once.
Their distinct plumage and distinctive "mourning" call make them easy to spot at dawn or dusk.
Dove Season
| | |
| --- | --- |
| Species | Dates |
| Mourning Dove | Nov 04 – Jan 28 |
Quail
The California quail, originally from the West Coast, is a prime source of hunting in several Hawaiian Islands. Big Island, Maui, Molokai, and Lanai are all great places to spot this bird with its dark black topknot and brownish-grey body patterning.
Unfortunately for Kauai hunters, the season is currently closed. Bag limits per person stand at 15 birds so remember to hunt responsibly. With their distinct head fluff also being brownish in hue – you can easily identify these species when out hunting in Hawaii.
Quail Season
| | |
| --- | --- |
| Species | Dates |
| California Quail | Nov 04 – Jan 28 |
Partridge Season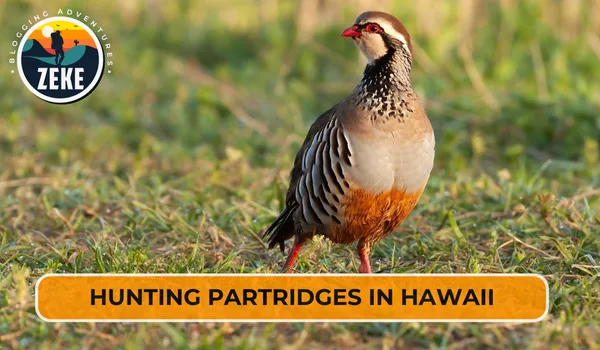 | | |
| --- | --- |
| Species | Dates |
| Chukar Partridge | Nov 04 – Jan 28 |
Hawaii Hunting License Information
In order to hunt in Hawaii, you must possess a valid license. All hunters age 10 and older must have a Driver's License or State Identification Card. An annual hunting license costs $20 while a lifetime license is available for $250 – both require parental permission if the hunter is under 18 years of age.
Also, all hunters are obligated to take part in the free Hunter Education course prior to receiving their license which consists of online components and an onsite field day.
To hunt upland game birds like pheasants and quail, you'll need a Game Bird Stamp costing either $10/year or $100/lifetime respectively.
Lastly, obtain permits from the Department of Land & Natural Resources for any big-game species sought after; these cost between $5 to $20 depending on the animal type hunted.
Where Can You Hunt in Hawaii?
Hawaii is an amazing place for hunters to explore. With its varied terrain, there are many opportunities to pursue a variety of animals.
On six major islands – Oahu, Maui, Kauai, Lanai, Molokai, and the Big Island – Hawaii offers public hunting areas with species such as pheasants, doves, quail, mouflon sheep, axis deer, and wild boar.
It's essential to check in with the local Department of Land and Natural Resources regarding specific rules related to hunting seasons by island or type of animal. So grab your gear and get ready for exciting hunting in Hawaii.
Public Hunting Places in Hawaii
Molokai island
Boasting tropical forests, rugged terrain, and abundant wildlife, Molokai has some of the most diverse hunting experiences in the world. Just 36 miles long and 10 miles at its widest point with 260 square miles total – Molokai has a population of 8,000 locals making it one of the least touristy islands among all eight Hawaiian Islands.
For hunters looking for adventure, this is their perfect escape; approximately 30,000 axis deer roam free on Moloka'i along with blackbuck antelope, wild pigs, and turkeys living among lush greenery that you won't find anywhere else in Hawaii.
Lanai
Nestled amongst the Hawaiian Islands, Lanai offers some of the most abundant big game species in the world. From majestic axis deer to stately mouflon sheep – hunters have a plethora of animals to pursue on this stunning island.
Exploring Lanai's terrain is ideal for hunting with its diverse landscapes and unforgettable views of nearby islands and oceans. However, before you can start your hunt here, you must acquire a valid license from the Hawaii Department of Land and Natural Resources (DLNR).
Certain species may require additional tags or permits prior to pursuing them so be sure to double-check local regulations before heading out into the field.
Oahu
Oahu is an unrivaled hunting destination, boasting a stunning spectrum of terrain and species. From rainforest to open grasslands, the island's diverse environment harbors wild pigs, goats, sheep, deer, and pheasants – offering an exciting yet rewarding challenge for hunters.
If you're planning a hunt on Oahu Island, then make sure to do your research in advance; obtain all necessary permits or licenses before venturing out into the field.
Experienced hunters know that success comes not just from preparation but also knowledge – understanding each animal's habitat and behavior can give you a competitive edge over nature.
Kauai
Kauai is a tropical paradise that offers the ultimate hunting experience. From its lush forests and varied wildlife to picturesque grasslands, Kauai has something for every hunter. The wild pigs and axis deer are two of the most sought-after game animals on the island, providing an exciting challenge that will draw any hunter in.
For those hoping for more than just pig or deer hunts, there are plenty of other species around too – pheasants, doves, quail, ducks, geese and even turkeys.
Maui
Maui is an ideal place for hunters everywhere. Boasting a wide variety of wildlife such as wild boar, axis deer, and feral goats, the island has something to offer both new and experienced hunters alike. With varied terrain ranging from lush tropical forests to high-elevation shrublands, you can find just the right spot for your next hunt.
Feral goats are among Maui's most popular animals – they may be tricky due to their intelligence but with patience and skill you could bag yourself a real trophy species. Axis deer also roam open areas near mountain peaks so why not take up the challenge?
Big Island of Hawaii
The Big Island of Hawaii is a special place for hunters looking to experience something truly unique. With its lush, tropical scenery and wide selection of wild game, it's the perfect spot for unforgettable hunting in Hawaii.
From deer and boar to sheep and pheasants, you can find all sorts of animals roaming around the island – not to mention some of the best fishing in all of Hawaii.
If you're interested in hunting on this beautiful island, there are several options available: public land or private ranches, special hunting areas with more concentrated species populations – whatever you prefer. And when it comes to weapons? Everything from firearms to bows and arrows can be used here.
Private Hunting Places in Hawaii
When planning a hunting trip to Hawaii, it's absolutely necessary to get the right permits and licenses for your chosen game. Research the area you plan on hunting in – some places may have restrictions or limits depending on what you're after.
Private land can have its own rules so double-check with local authorities about any regulations regarding firearms or other weapons used while out there. Make sure your accommodation is suitable for a comfortable and successful hunt – look into private hunting places in Hawaii that offer cabins or campgrounds specifically catered towards hunters.
With these important considerations taken care of, all that's left is packing up and embarking on an unforgettable adventure.